"Simplicity is the ultimate sophistication..It's not just minimalism or the absence of clutter. It involves digging through the depth of complexity. To be truly simple, you have to go really deep…. You have to deeply understand the essence of a product in order to be able to get rid of the parts that are not essential." – Steve Jobs
Greg McKeown is a business consultant and a leadership speaker. He is also a staunch champion of what he calls "Essentialism", which means a disciplined pursuit of less as compared to following where the winds of options and opinions lead you.
Greg McKeown (Source: alchetron.com)
In his wonderful book "Essentialism: The Disciplined Pursuit of Less" McKeown eloquently points out the malady a lot of us suffer from, a guilt induced tendency to push ourselves harder to make things work. When things go wrong, we grit our teeth and keep pushing exerting ourselves against the boulders of obstacles till we breakdown. He says that like the fictional horse Boxer from George Orwell's legendary novel "Animal Farm", we wrongly believe in hard work at any cost.
"Are there ways we can be a bit like Boxer? Do setbacks often only strengthen our resolve to work longer and harder? Do we sometimes respond to every challenge with "Yes, I can take this on as well"? After all, we have been taught from a young age that hard work is key to producing results, and many of us have been amply rewarded for our productivity and our ability to muscle through every task or challenge the world throws at us. Yet, for capable people who are already working hard, are there limits to the value of hard work? Is there a point at which doing more does not produce more? Is there a point at which doing less (but thinking more) will actually produce better outcomes?"
The answer, as you can guess, is yes. McKeown points out that by discerning the trivial many from the vital few, and then putting time, energy and effort on that vital few, we can get dazzling results in both professional and personal lives.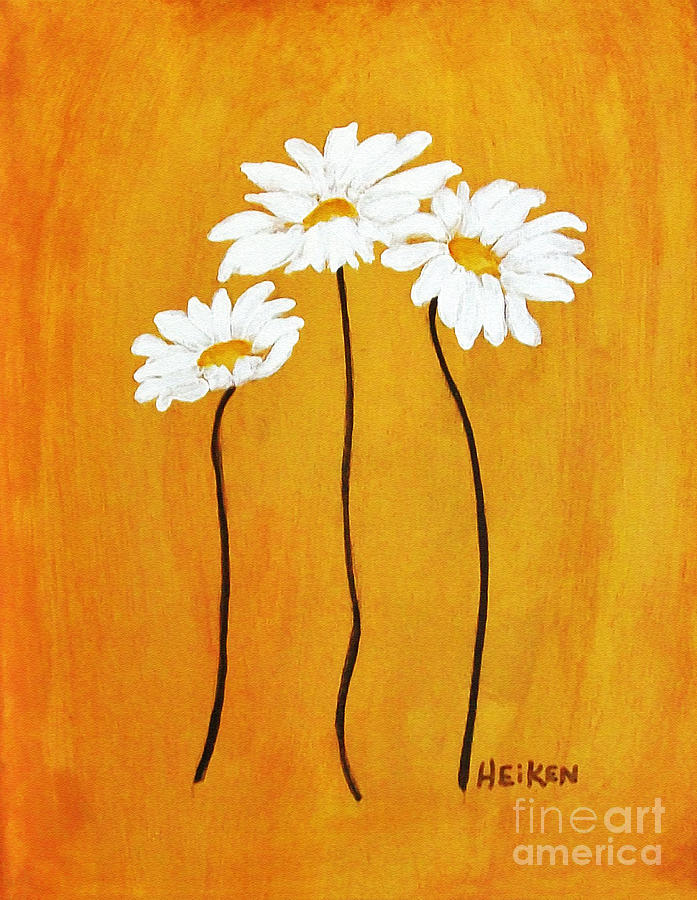 Simplicity L by Marsha Heiken
(Source: fineartamerica.com)
If we can spot the essentials and then fuel them up, we do not have to worry about other things, as I have seen from my own personal experience. Simplicity does yield enormous results, but like Steve Jobs said, simple is hard.
"Think of Warren Buffett, who has famously said, "Our investment philosophy borders on lethargy….Warren decided early in his career it would be impossible for him to make hundreds of right investment decisions, so he decided that he would invest only in the businesses that he was absolutely sure of, and then bet heavily on them. He owes 90% of his wealth to just ten investments. Sometimes what you don't do is just as important as what you do." In short, he makes big bets on the essential few investment opportunities and says no to the many merely good ones."
There are two challenges involved in staying close to the marrow of things.
The first challenge is finding the essentials. Our judgement is often crowded by appearances and the popular opinion on what works and what does not work, what is important and what is not. Once this challenge is overcome, which can be done by trial and error. Remove each option one by one and see if you feel inadequacy on removal or liberation. In the case of most inessentials, it will be the latter. If you feel inadequacy and resentment, it means it was essential for you.
The second challenge is to stay focused on the essentials and not get distracted by the siren call of the trivial many. This is the harder part, but doable. This can be done by setting hard boundaries. For example, pursuing no more than one goals at a time. In this case, you will have no choice but pick the essential over the inessential. This will help you "say no to good opportunities and say yes to truly great ones."
Steps to Simplicity by Lori Drew
(Source: theartstack.com)
To whet your appetite more for the benefits of radical and deliberate simplicity, Mckeown points out that the return on investment on efforts can be tremendously disproportionate in some cases.
"Some believe the relationship between efforts and results is even less linear, following what scientists call a "power law." According to the power law theory, certain efforts actually produce exponentially more results than others. For example, as Nathan Myhrvold, the former chief technology officer for Microsoft, has said (and then confirmed to me in person), "The top software developers are more productive than average software developers not by a factor of 10X or 100X or even 1,000X but by 10,000X." It may be an exaggeration, but it still makes the point that certain efforts produce exponentially better results than others….The overwhelming reality is: we live in a world where almost everything is worthless and a very few things are exceptionally valuable. As John Maxwell has written, "You cannot overestimate the unimportance of practically everything."
Greg Mckeown's "Essentialism: The Disciplined Pursuit of Less" is a must read for everyone who wants to have a bigger impact in their personal and professional lives.